Greenscreen Backgrounds : Chromakey : CG4TV.com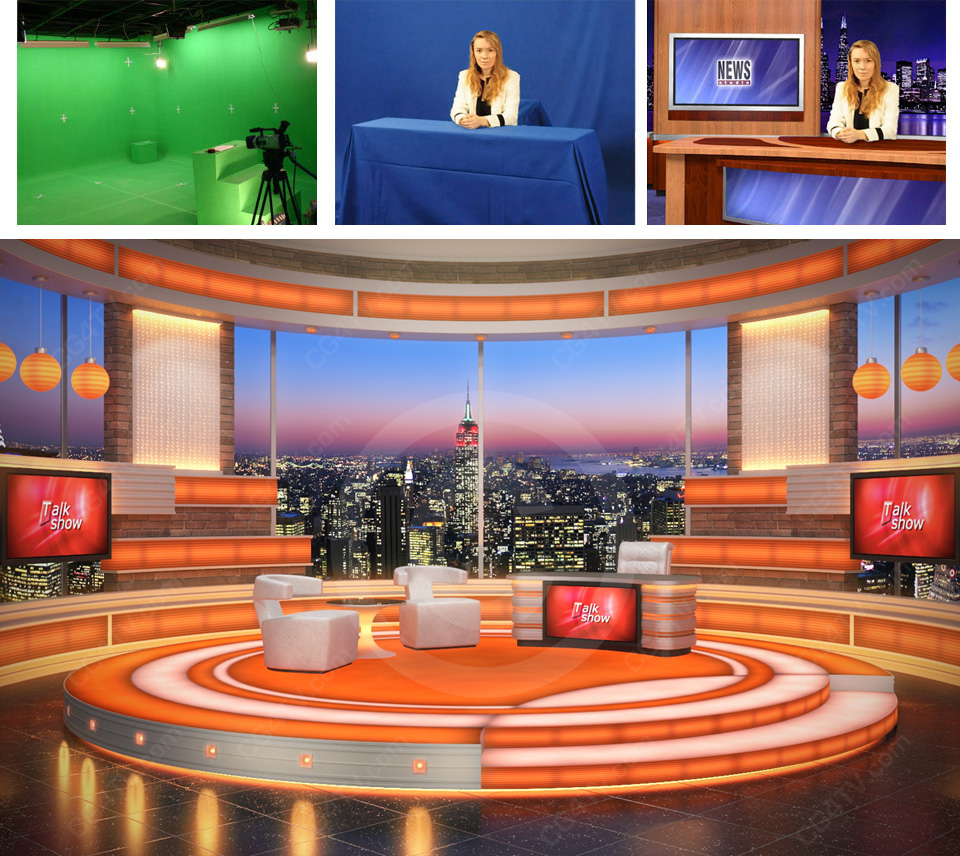 Cover your actual desk with greenscreen (or blue) cloth, as in the illustration. This way your talent can put their hands (or other objects, such as notebooks or coffee cups) on the desk surface. Greenscreen software will remove the green or blue backgrond. You can use the greenscreen background with real furniture too. One of the layers we provide does not have the virtual desk
Greenscreen Backgrounds From Our Store
How to use Greenscreen Backgrounds with Adobe After Effects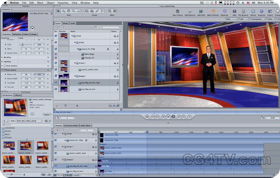 You will be stunned by the realism of our Greenscreen Backgrounds. Browse through our portfolio, and you will immediately see the versatility that our high definition news sets can provide. You will no longer be bound by the confines of reality. You can unleash your creativity –at a fraction of the cost of a live set – in practically any application you might have for a news set. Specifically designed for video professionals of the TV and motion pictures industries our high quality, high definition Greenscreen chromakey backgrounds for news have been used by movie studios, channels such us FOX, ABC and HBO and in TV series such as Fox Arrested Development.

Is your project a little more modest? Our Greenscreen Chromakey Backgrounds for News are extremely versatile. You can also use them in your next newscast, podcast, webcast, corporate communication . . . you name it! The possibilities are endless.

And here ars the best part, with one of our realistic Greenscreen backgrounds, you can get a million dollar look with only a small investment. And better yet, we offer discounts to returning customers, so you can save even more. Watch our newsletters for the coupon codes.

You can use one of our stock Greenscreen backgrounds and animations – and we are adding to these every day – or we can customize one for you. Or we can create an entirely new Greenscreen backgrounds to meet your needs. Our backgrounds are compatible with any professional video editing software. And you can download a free test before you buy. That way, you can test your concept ahead of time and there will be no guesswork.

Our Virtual News Sets are only available from CG4TV.com. There are no resellers or representatives, so order your Virtual News Set directly from us.

Imagine the possibilities. You can 'broadcast' the news from virtually anywhere using a Virtual News Set without spending time and money for custom CGI development. And given the sophistication of today's audiences, actual physical sets with sufficient stage appeal cost a small fortune. So the choice is simple. Use one of our high definition stock Greenscreen backgrounds for only pennies on the dollar.

All of our stock Virtual News Sets are all royalty-free, so you'll enjoy substantial savings over a custom work-up; and we are constantly adding to our stock greenscreen collection. You're sure to find just the right Virtual Set for your needs. But if you do not see the one that fits your requirements perfectly, please feel free to contact us at info@cg4tv.com. We are always open to suggestions about additions to our stock catalog.

All of the images and virtual sets here at CG4TV.com are available in a variety of sizes and resolutions to suit a broad range of requirements. Remember, the uses for a Virtual News Set are limited only by your imagination.

CG4TV.com is your virtual electronic art gallery. Order your Virtual greenscreen background and download it now, with just a few simple clicks of your mouse! Download is immediate. We accept all major credit cards.