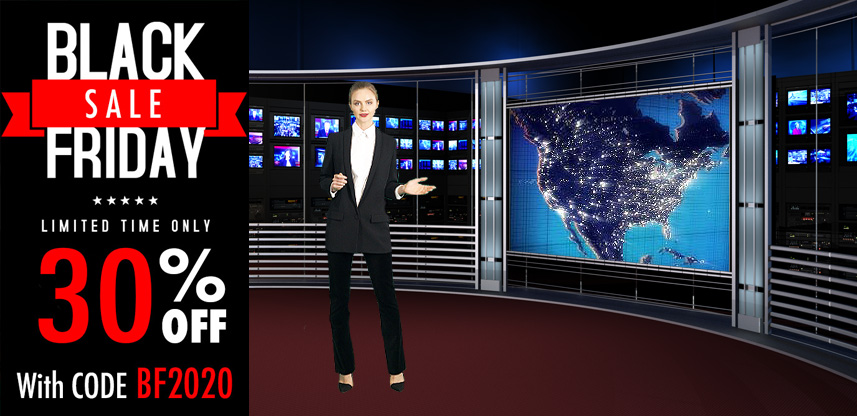 Royalty Free Virtual Sets and 3D Stock Footage for Video Producers
We offer professionally designed virtual backgrounds and virtual sets for software based video editing systems such as Adobe After Effects and Premier, Final Cut Pro, Tricaster, Sony Vega and similar programs for professional video compositing and broadcasting. Please note that our virtual sets can be used for LIVE broadcasts too and are typically successfully used by local, regional and state TV stations around the world such as ABC, Fox, CBS etc.


Our Clients Include

Note: Many of our customers use our virtual news and weather sets and animations for LIVE broadcast using Tricaster and other software and hardware based studio systems enabling LIVE broadcasting with chroma keying.



Try Before You Buy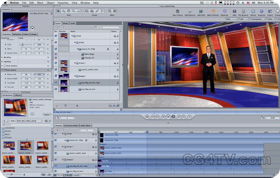 Tutorials and Free Test Downloads. As a unique service to customers, CG4TV makes it easy to "try before you buy."


Users are amazed by how easy the green screen backgrounds are to use as well as by their high production quality. Together with the tutorials our sets form a powerful tool which even enables relative novices to create professional broadcast quality video. You are likely to find answer to further questions you may have at our Free Downloads as well as FAQ pages. If you did not find the answer needed there, then please cfeck the FAQ page or feel free to ask us at info@cg4tv.com.



Virtual Sets Testimonials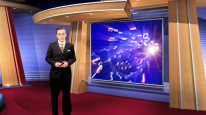 The format of our program is a 'news magazine' style, comparable to 60 Minutes or other in depth, hard hitting news programs. By the end of February 2010 we expect to have out first program aired. In the project development we used: Apple Final Cut Studio 2, Adobe Photoshop CS4 and Ultimatte AdvantEdge.

The biggest part of initiating a television program is finding the right aesthetic that fits the brand. Several days were spent doing 'virtual set research', looking at different software and design companies. It was quite clear which company had the best sets. CG4TV.com offered high resolution images that were vibrant and crisp to fit the professional, polished image we were looking for. The downloadable files with alpha channels, allowed our graphic designer to add elements, depth and realism. Due to budget constraints, our only option was to do all keying in post production. This would allow us to tweak our graphics and fit them into the virtual sets.

Matching camera angles proved to be a challenge, we were looking to do more than just a flat straight angle. It took a good deal of time to set up lighting and get the cameras to match the sets, but once this was accomplished, the results were very impressive. Shadows, zooms, and pans were layered in Apple Motion. This added to our post production time, but increased the realism to another level. The virtual set has really added to the production value and feel of the program.

Sincerely,
S. Kessinger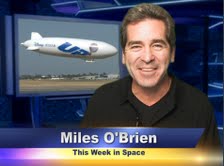 We needed an instant low-cost solution to make our brand new This Week In Space show look like national television, even if it is actually being produced on a laptop. CG4TV.com's store had the perfect virtual set and a background for us. We now use it in every show for everything from titles to commercials.

In addition to this virtual sets were a great solution for our internationally renowned television anchor Miles O'Brien. Due to his busy globe-trotting schedule he cannot be at a real physical set at all. Now he simply carries an easy portable green screen with him, shoots his segments on the road, and we put him on the same set for consistency no matter where in the world he is that week.

Our minimal investment in CG4TV green screen backgrounds and virtual sets paid off in leaps and bounds. Our show had a meteoric rise to the top place in iTunes, caused Google/YouTube to ask us to partner with them, and attracted multiple established media outlets to embed in our show.

This Week In Space Producer and Correspondent
David Waters.
Dazzle Your Audience with Low Cost, Broadcast-Quality Virtual Sets
There's a green screen revolution underway in videography. No longer the domain of plaid-coated 1970's TV weather forecasters, green screen backgrounds and backdrops now fuel major motion pictures like the recent Star Wars trilogy, 300, Sky Captain and Sin City. Hollywood producers are no longer forced to build large, expensive sets. Instead, they can use green screen backgrounds and chroma key software to build top-quality virtual sets on computers, saving millions of dollars in production costs.

But that's only part of the story. The revolution has spread far beyond the major motion picture studios. Today, using revolutionary virtual set and other innovations like elastic backgrounds, anyone with a fast computer, decent video camera and an inexpensive, portable green screen backdrop can produce dazzling, professional-level results. What's more, they can do it on a shoestring budget. As a result, sophisticated solutions using green screen backgrounds and virtual sets are showing up all over the place – in corporations, talk shows, schools, low budget TV productions and a host of other applications.


If you're looking for the highest quality, high definition computer generated green screen chromakey backgrounds, royalty free stock – you've come to the right place!

We offer multiple portfolios of CG stock footage and graphic media. You'll find a wide selection of both animated and non-animated backgrounds, including realistic virtual news sets. We also offer 3D animations, 'talking head backgrounds' and, of course, stationary images.

Is your project a little more modest? Our backdrops are extremely versatile. You can also use them in your next newscast, podcast, webcast . . . you name it! The possibilities are endless. And the use of green screens adds even more flexibility.

And here is the best part, with one of our realistic backgrounds, you can get a million dollar look with only a small investment. And better yet, we offer discounts to returning customers, so you can save even more. Watch our newsletters for the coupon codes. Buy two of our animated camera sets and get the third free! Our virtual studio templates are only available from CG4TV.com. There are no resellers or representatives.

The media in our collection are available in ultra-sharp high-definition. We also offer most items in standard definition, as well, in order to provide you with the media you need to meet your requirements. In our store at CG4TV.com, we're doing the utmost to provide cutting-edge HD CG stock footage that you won't find anywhere else. And when we say our stock footage is high quality, we mean that each HD frame is painstakingly coordinated to provide the clearest, crispest images and the smoothest transitions on the market today.

Jump right in and get started! Simply click on any of the links along the top of the page. You're sure to come up with plenty of creative ideas while you browse through our catalogs. And we're always adding new material. Bookmark us now and check back often!

Please remember that the 'Watermark' on each item is strictly for copyright protection. The stock footage you purchase and download will be free of any 'Watermark' overlay.

All of our stock footage is royalty-free. You'll enjoy substantial savings over custom footage; and we're constantly adding to our stock footage collection. You're sure to find just the right stock footage for all of your projects. But if you don't see the stock footage that works for you, or if you have a question, please feel free to contact us at info@cg4tv.com. We're always open to suggestions for new items to add to our Stock Footage Catalog or to any of our Animated Background, Virtual Set or Animation collections.

CG4TV.com is the virtual art gallery for your electronic space. Order your stock footage now, with just a few simple clicks of your mouse! Download is immediate. We accept all major credit cards.

If you have any questions regarding any of our Images, Animated Backgrounds, 3D Animations or Virtual News Sets, please feel free to email us info@cg4tv.com.