CG4TV.com Products for Video Producers
Add Hollywood Magic
to Your Videos



Professional & Affordable
Royalty free license
Immediate download


We offer professionally designed virtual backgrounds and virtual sets for software based video editing systems such as Adobe After Effects and Premier, Final Cut Pro, Tricaster, Sony Vega and similar programs for professional video compositing and broadcasting. Please note that our virtual sets can be used for LIVE broadcasts too and are typically successfully used by local, regional and state TV stations around the world such as ABC, Fox, CBS etc.
Our Clients Include
Note: Many of our customers use our virtual news and weather sets and animations for LIVE broadcast using Tricaster and other software and hardware based studio systems enabling LIVE broadcasting with chroma keying.
Try Before You Buy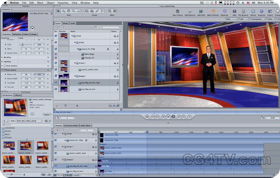 Tutorials and Free Test Downloads.
As a unique service to customers, CG4TV makes it easy to "try before you buy."
Users are amazed by how easy the green screen backgrounds are to use as well as by their high production quality. Together with the tutorials our sets form a powerful tool which even enables relative novices to create professional broadcast quality video. You are likely to find answer to further questions you may have at our
Free Downloads
as well as
FAQ
pages. If you did not find the answer needed there, then please cfeck the FAQ page or feel free to ask us at info@cg4tv.com.
Virtual Sets Testimonials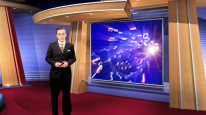 The format of our program is a 'news magazine' style, comparable to 60 Minutes or other in depth, hard hitting news programs. By the end of February 2010 we expect to have out first program aired. In the project development we used: Apple Final Cut Studio 2, Adobe Photoshop CS4 and Ultimatte AdvantEdge.

The biggest part of initiating a television program is finding the right aesthetic that fits the brand. Several days were spent doing 'virtual set research', looking at different software and design companies. It was quite clear which company had the best sets. CG4TV.com offered high resolution images that were vibrant and crisp to fit the professional, polished image we were looking for. The downloadable files with alpha channels, allowed our graphic designer to add elements, depth and realism. Due to budget constraints, our only option was to do all keying in post production. This would allow us to tweak our graphics and fit them into the virtual sets.

Matching camera angles proved to be a challenge, we were looking to do more than just a flat straight angle. It took a good deal of time to set up lighting and get the cameras to match the sets, but once this was accomplished, the results were very impressive. Shadows, zooms, and pans were layered in Apple Motion. This added to our post production time, but increased the realism to another level. The virtual set has really added to the production value and feel of the program.

Sincerely,
S. Kessinger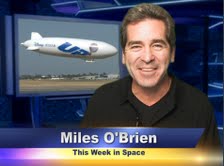 We needed an instant low-cost solution to make our brand new This Week In Space show look like national television, even if it is actually being produced on a laptop. CG4TV.com's store had the perfect virtual set and a background for us. We now use it in every show for everything from titles to commercials.

In addition to this virtual sets were a great solution for our internationally renowned television anchor Miles O'Brien. Due to his busy globe-trotting schedule he cannot be at a real physical set at all. Now he simply carries an easy portable green screen with him, shoots his segments on the road, and we put him on the same set for consistency no matter where in the world he is that week.

Our minimal investment in CG4TV green screen backgrounds and virtual sets paid off in leaps and bounds. Our show had a meteoric rise to the top place in iTunes, caused Google/YouTube to ask us to partner with them, and attracted multiple established media outlets to embed in our show.

This Week In Space Producer and Correspondent
David Waters.
Dazzle Your Audience with Low Cost, Broadcast-Quality Virtual Sets