General Questions:
Will we be able to download your products immediately after making the payment online?
Yes.


How quickly I will receive the download links for the product?
If you don't receive our email with the download links within 20 minutes after payment, please check your spam filter. Sometimes the automatic notifications are filtered as spam. If you still don't not find the email, please contact us at info@cg4tv.com, and we'll send the links to you manually.


Do I also get a CD or DVD?
No. But If you would like us to burn a CD or DVD with the set, we will do it for an additional fee.



Virtual Sets Questions:
Free Lesson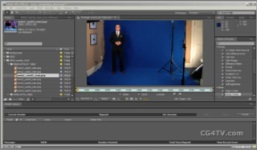 How to use virtual sets with Adobe After Effects.


Will your set work with my system?
Our virtual sets will work with all major professional video editing solutions, such us Adobe Aftereffect, Avid, Final Cut Pro, etc., and any professional keying system. Our virtual sets consist of layered .PNG files. Click here to see an example of a layered set. To be sure that the sets works with your system, you can test it with our test virtual set. Download it here.


Does it matter how big the green screen foreground is?
No. You only need to make sure your subject doesn't move out of frame. The rest of the background will either get keyed or masked out, so you don't have to worry about it.


Would your virtual sets work with NewTek's Tricaster?
Yes, they should work with TriCaster. However they are not 3D files, but layered 2D background images with alpha. Please download a test files to export and try them out with your software at /free-downloads.html.


Whats better to use, blue screen or green screen?
It works the same way with a blue screen and a green screen. Some video editors prefer green for digital, blue for film. Some say use what works best depending on the clours in the scene. Green or blue screens are used, becuse those colours are very low in skin tones.


Can I use an actual desk or sofa with the virtual set?
Yes. Each set has a version without the furniture (example), so you can use your own items.


How do I use the virtual desk?
It just takes a few simple steps.



Cover your actual desk with green (or blue) cloth, as in the illustration. This way your talent can put their hands (or other objects, such as notebooks or coffee cups) on the desk surface. To test our virtual desk with your software, click here for a free download of the watermarked test files. Click here for further explanation.


What is the difference between HD and SD resolutions?
The files are identical. The only difference is the resolution. Typically, still virtual sets for HD standard will have 2500x1850 pixels to give you plenty of room to pan and zoom. SD resolution stills will have 1600x1200 pixels.


Can I change the Logo on the virtual set?
We've made it really easy to change the logo in some of our virtual sets (for example, our two-hosts virtual set and our sports set). In addition, all of our sets have a variant without the logo. However, some sets (Classic, Flex, US-colors news sets) have a layer in which the logo is embedded in the image and cannot be changed. We can customize these for you and render the 3D title for an additional fee. We provide the still layered images for these sets, but not the 3D Studio Max files that contain the logo.


Will we be able to do our own modifications to this News Set?
You will receive still layered images for this set. Thereore, you cannot modify the geometry or do any major changes. However, you can make some minor modifications (slightly adjusting the color for example) in Photoshop or similar programs.


Can I change the colors of the set?
You can slightly change the color in Photoshop or similar programs. If you need radical change we can re-render the set with new colors. We would consider this customization, requiring additional time and fees. You can request such customization by e-mail at info@cg4tv.com.


Will the set work in PAL file format?
Yes, all static the sets are .PNG images and will work with both, PAL and NTSC. In order to get your animated sets to work with PAL, convert them to the correct fps in your video editing program.


Will the set work in NTSC file format?
Yes, all static the sets are .PNG images and will work with both, PAL and NTSC. Animated sets are rendered at 30 fps and will work with NTSC without problems.


Will the set work in HD file format?
Those marked High Def have enough resolution (2500x1800) to be used in high definition. You can zoom and pan inside the set.


What are the common errors?
Scaling your talent correctly is very important. It is best to film in the highest resolution possible and scale your talent after removing the green key. A common mistake is making the talent too large.


What should I consider when lighting my green screen?
Be sure to attain an even wash of light over the background. You don't need to light your screen brightly. It's more important to provide even lighting from side to side. Unevenly lit areas are hard to key. Small, hard lights don't work well because they cast light in a narrow beam that creates hot spots and dark areas. Use large, soft lights.


How do I test for even lighting?
Turn on the zebra strip function on your camera and focus on the green screen. Set the function to 80%. Look for broken lines in the pattern, indicating variations in the signal. Adjust your lights until the zebra pattern is unbroken across the frame.


How do I avoid spill from my green screen onto my subject?
Light the wall and the subject separately. This helps control both shadows on the wall and spill on the subject. You should also avoid the common mistake of putting the subject too close to the background. Separating the wall and the subject helps reduce spill. Added distance also puts the background out of focus, mimimizing any imperfections in the green screen.


Do I have to use a special green screen?
No. Any background will do. You can paint a wall or use paper or cloth. Whatever you use, be sure and watch out for wrinkles and seams. You can also use a collapsible green screen for shots in close quarters.


Do I have to use green?
No. You can key out any solid color that your computer can isolate. Be sure to pick colors that contrast sharply with your talent.


Should I lay my keyed clip directly over the actual footage?
No. First lay it over white. Put a solid white background on track one. Then put your green screen over it on track 2. Adjust your controls against the white background.


What should I watch out for when using DV?
DV causes compression that results in detail averaging. This causes jagged edges. To minimize this problem, set your sharpness, detail or contrast control all the way down, or off, if possible. This will eliminate over-sharp edges that will cause problems in keying. Use analog output for your DV deck, preferably the component outlet. Analog filters will reduce the damage done by DV compression.


Which software work best for green screen video editing?
We typically use Adobe After Effects. Here is the tutorial. But there are many of them available: Apple Final Cut Pro, Apple Motion, Adobe Premiere Pro, Adobe Ultra, Avid Media Composer, Avid Studio, Avid Pinnacle studio HD, Eyeon Fusiom, Grass Valley Edius 6 and Sony Vegas