Royalty Free Animated Virtual Sets
Animated Virtual Sets
Animated Virtual Sets and Motion Backgrounds.
Our royalty-free Motion Backgrounds offer amazing versatility. You can configure these realistic motion backgrounds to suit just about any requirement.
You can use one of our motion backgrounds in your next newscast, podcast, webcast, corporate communication . . . let your imagination guide you. The possibilities are endless. Our realistic, high quality, high definition Animated '
virtual set
give you a million dollar look for a fraction of the cost. You can 'broadcast' from virtually anywhere with one of our motion backgrounds without spending time and money for custom CGI development.
With our motion backgrounds , you can focus on the talent from a variety of distances and camera angles. Or you can zoom in on active screens or other set details. Looping and multi-layering add even more flexibility. High resolution .PNG images provide ample room to pan and zoom when setting up your shot.
Our stock motion backgrounds are royalty-free, so you'll enjoy substantial savings over a custom work-up; and we're constantly adding to our collection. But if you don't see the one that fits your requirements perfectly, contact us at
info@cg4tv.com
. We're always open to suggestions about additions to our stock catalog.
We can also customize an motion backgrounds for you, or we can create an entirely new one to meet your needs. All our Animated Virtual Sets and Motion Backgrounds are compatible with any professional video editing software, MAC or PC. There's no guesswork. Download a free test before you buy.
CG4TV.com is your virtual electronic art gallery. Order your motion backgrounds and download it now, with just a few simple clicks of your mouse! Download is immediate. We accept all major credit cards.
Try Before You Buy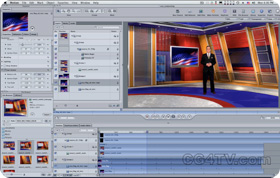 Tutorials and Free Test Downloads.
As a unique service to customers, CG4TV makes it easy to "try before you buy."
Users are amazed by how easy the green screen backgrounds are to use as well as by their high production quality. Even relative novices can produce professional, broadcast-quality videos. Questions not covered in the tutorials can be found on the FAQ page or by contacting CG4TV at info@cg4tv.com.
Their newsletter provides alerts about promotions and test downloads.