American Flag Animation
Royalty free
Sparkling American Flag Animated Background
. Available in HDTV (1920 x 1080) resolution, standard NTSC and PAL, and web optimized resolution.

EXCLUSIVE product.
Sparkling American Flag Animation
is only available from CG4TV.com. This product that can not be purchased elsewhere.
Important note: No hidden charges, no taxes.
The price is all inclusive.
| | |
| --- | --- |
| Number of frames: | 300 |
| Length: | 10 sec |
| Delivery: | Immediate download |
| Compression: | PhotoJPEG |
| File format: | .MOV |
| Seamless looping: | Yes |
| Source: | Computer generated |
| Includes sound: | No |
| Includes matte: | No |
| Field rendering: | Progressive |
| License type: | Royalty-free for commercial use |
SKU:
Sparkling-American-Flag
Details
Details
Sparkling American Flag Animation
She's a sparkling flag and forever in peace may she wave…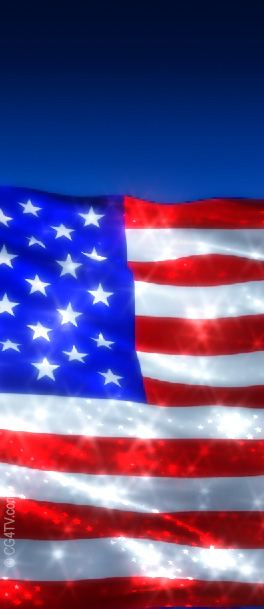 There's not a more recognized symbol for the United States of America and the American spirit than the American Flag, also affectionately known as 'The Stars & Stripes', 'The Star Spangled Banner' and 'Old Glory'.
Similar Products
Notice the attention to detail in this
Sparkling American Flag Animation
. We employ 300 frames in order to achieve the smooth undulating ripple effect of the constantly flowing wind.
The
3D Animated Sparkling American Flag
is particularly useful during American holidays such as Memorial Day, Flag Day - and of course the 4th of July, America's Independence Day. This
Sparkling American Flag
will also serve well when covering major American governmental elections where the flag is always flown; and it's perfect for use in conjunction with any United States activity at home or abroad where the
American Flag
appears.
With so many opportunities to use an
Sparkling American Flag
, shouldn't you have one in your background archive? This flag is available in both High (1920x1080 30fps) and Standard (NTSC 720x486) Definitions.
Don't Forget! All of our stock animated backgrounds are royalty-free so you'll enjoy substantial savings over a custom animation.
But if you don't find the one that works for you, please contact us at
info@cg4tv.com
. We're always open to suggestions for additions to our catalogs.
Reviews