Green Screen Backgrounds
Great news for those who want to create TV or web show that look like a million bucks using professional looking
virtual studios
. The great news is that this technology is becoming easier to use. The software, 3D graphics and animations have become far more affordable.
Chroma key technology requires both a real and a virtual background.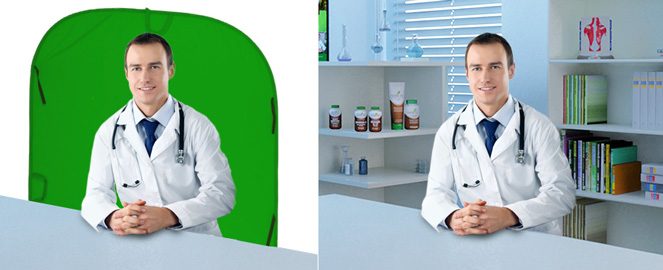 Choosing a real green screen background
Before you go to look for deals on Amazon or in another store, you need to decide what outcome you want to achieve. If all you need is a talking head in a head and shoulders shot, you can save a lot of money by just buying a small mobile green screen background. If you plan to film an entire talk show, including real furniture, you will need an entire green room: at least two green walls and a green floor. Your budget will be several times higher accordingly. Of course you can always shoot a talking head in a studio with a ceiling to floor green screen, but not the other way around.
If your budget is modest, the rule of thumb which should be followed when choosing the size of the physical green screen chroma key background is the following: assess your needs and the size of the image. Measure what you are planning to cut from the video and paste into a
virtual set
. Your green screen surface area will be sufficiently large if the space between the edge of the image of your talent and the border of the green screen background is at least a couple of inches.
Now, if you shoot your talent at full body length, and s/he is constantly moving, you will need to take this into account and cover the entire background area of ​​this trajectory with green screen material, be it cloth or paint. Also think about future proofing your setup. Do you expect your needs to grow? Perhaps it is worth to get a background that is a bit larger if you anticipate that your needs will grow relatively soon. When you have clarity about the size of the green screen area you will be using in your project, you can safely choose a physical green screen background using your measurements. Keep in mind that your lighting needs will also vary depending on the size of this background. Plan your budget accordingly.
If you are planning to broadcast live using a green screen then you need to put aside a budget of at least $5K for decent, good looking results. Cheaper solutions do exist, but bear in mind that you will get what you pay for.
If you do not plan to broadcast live, then you can use affordable, low cost software like Adobe After Effects, Final Cut pro, Premiere, Sony Vega and even Apple's iMovie.
We ourselves often use Adobe After Effects for low cost but excellent quality chroma key projects. We even created a free video tutorial for this software. It may cost you as little as $35. You can download and use a 30 days trial to test the AE software, free of charge. CG4TV provides several free virtual
virtual backgrounds
,
sports background
, etc.
Virtual Green Screen Backgrounds and Backdrops from CG4TV.com
Try Before You Buy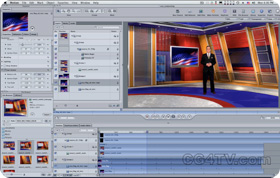 Tutorials and Free Test Downloads.
As a unique service to customers, CG4TV makes it easy to "try before you buy."
Users are amazed by how easy the green screen backgrounds are to use as well as by their high production quality. Even relative novices can produce professional, broadcast-quality videos. Questions not covered in the tutorials can be found on the FAQ page or by contacting CG4TV at info@cg4tv.com.
Their newsletter provides alerts about promotions and test downloads.
Some FAQ's About Green Screen Backgrounds
CG4TV: High Quality 3-D Graphics on a Modest Budget

Among CG4TV's clients are:
- PBS
- Discovery Channel
- NASA
- HBO
- 20th Century FOX
- FOX News
- Mitsubishi
- Intel
- British Petroleum
- Gillette
- European Commission

CG4TV green screen backgrounds are compatible with virtually all professional chromakeying and video editing solutions including Final Cut Pro and Adobe After Effects.
What color is best for chromakey: blue or green?
It really doesn't matter. Just be sure to choose a color that is not prominent on your subject. For example, if your subject is wearing blue, then choose a green backdrop, and vice versa. Many green screen software packages allow you to use a screen of almost any color.
What's the best chromakey background – fabric, paper or paint?
There are advantages to each. Fabric is washable, easy to transport and generally easiest to shoot. Highly transportable fold-up cloth units are available. Paper is initially cheaper, although replacement of torn or dirty sections will drive up cost. Also, it is bulky and hard to transport. Paper works best in the studio, rather than on location. Paint works well if you have a studio with an area that you can designate for green screen backdrop. You can set a constant size in your green screen, and a dirty spot on the wall can quickly be repaired with a can of paint.
What happens if my green screen background gets dirty?
If using cloth, clean it. Remove the soiled portion if using seamless paper. If you've got a painted background, get out the paintbrush! You can't effectively compensate for dirt or stains in the background. Beware of wrinkles, too!
What is color spill?
Color spill occurs when sections of the foreground subject absorb or reflect color from the background screen. It shows up as a colored tinge around the foreground image and must be corrected after the shooting process. Color spill is particularly noticeable with semi-transparent areas such as blonde hair. It is also hardest to remove from these areas.
What about lighting?
Keep the lighting flat and even on the surface. You can do this by using two lights at 45 degree angles. Place them three to four feet in front of the screen. Use a light meter to ensure that the lighting is even. Be careful not to over-illuminate. How far away from the screen should I place my subject? Make sure that your subject is sufficiently far away (four to six feet, or even further) from the screen to prevent shadows and light spillover. Sufficient space also assures that you won't be plagued with the green or blue halos of color spill.
How to Purchase a CG4TV Green Screen Backgrounds
Purchase is simple. Simply add the desired item to your shopping cart and then check out. It only takes a few mouse clicks, and download is instantaneous.
CG4TV
accepts all major credit cards.