Stage Background
Wonderful Indy style small stage features a raised wooden floor in a theater, on which actors, entertainers, or speakers perform. This green screen background is fully compatible with virtually all keying software for Macs and PCs presently on the market.

EXCLUSIVE product.
Stage Small Virtual Set
is only available from CG4TV.com. We don't have resellers or representatives. This product that can not be purchased elsewhere.
Important note: No hidden charges, no taxes.
The price is all inclusive.
Order Now and Add Hollywood Magic to Your Videos
SKU:
Stage-Small-Virtual-Set
Details
Details
Small Stage Green Screen Background.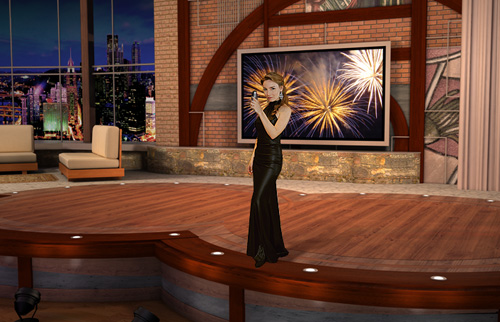 Our
stage background
offers you unmatched versatility and flexibility. With 14 camera angles (and up to 4 layers), you can configure this realistic set to suit just about any requirement. Our
green screen backgrounds
are of such high quality that they've been used in many movie and television productions.
You can use it for your music talk shows, song recording, talk shows . . . you name it! The possibilities are endless. It's all a matter of visualization.
Similar Products
With this Virtual Stage small green screen background, you can focus on the guests and host of the talk show from a variety of distances and angles. Or you can zoom in on the screen. Multi-layering of each camera view adds even more flexibility. And with our experience in integrating our sets into popular virtual set systems, it doesn't matter whether you use green screen, blue screen or chroma key. Our, our sets will fit your virtual production needs. Deliverables are in high resolution .png format providing ample room to pan and zoom to set up your shot.
We offer discounts to returning customers, so you can save even more. Watch our newsletters for the coupon codes.
You can use the stock version of our Stage Small Green Screen Background or we can customize one for you. Or we can create an entirely new Green Screen Background to meet your needs. All Our Virtual Sets and green screen backgrounds are compatible with any professional video editing software, MAC or PC. And you can download a free test before you buy. That way, you can test your concept ahead of time and there'll be no guesswork.
Our Green Screen Backgrounds are only available from CG4TV.com. There are no resellers or representatives, so order yours now directly from us.
All our stock virtual sets and backgrounds are royalty-free, so you'll enjoy substantial savings over a custom work-up; and we're constantly adding to our stock news set collection. You're sure to find just the right one for your needs. But if you don't see the one that fits your requirements perfectly, please feel free to contact us at info@cg4tv.com. We're always open to suggestions about additions to our stock catalog.
All of the images, virtual sets and green screen backgrounds here at CG4TV.com are available in a variety of sizes and resolutions to suit a broad range of requirements. Remember, the uses for our green screen backgrounds are limited only by your imagination.
CG4TV.com is your virtual electronic art gallery. Order your Green screen background or virtual set and download it now, with just a few simple clicks of your mouse! Download is immediate. We accept all major credit cards.
Reviews