News studio background
Our Royalty-free
News studio background
offers you amazing versatility with 9 camera angles and multi-layering for each.

EXCLUSIVE product.
Classic
Virtual News Set
is only available from CG4TV.com. We don't have resellers. This product that can not be purchased elsewhere.
Important note: No hidden charges, no taxes.
The price is all inclusive.
Download
Camera 6
(with a watermark) to check our set with your video editing software including Adobe After Effects, Final Cut Pro, Sony Vegas, Tricaster, etc.
Details
Details
You program will look very professional with animated lower thirds. We include the 3D Animated Classic News Lower Third free of charge, designed specifically for this virtual

news studio

background.
Animated Lower Third is available only with this product.

Note: The single camera angles which you can purchase separately do not include this lower third.
Virtual News Studio Background.
This news studio designed for one anchor and may be used with or without a table. You can also use it with a real desk.
Wood paneling for this news studio background was created in the style of a large news channel. Two screens are located at the edges of the news background. Dark red carpet covers the entire floor. There is a table with the logo located on the curved blue stand.
Background behind anchor is made in neutral blue and white stripes. We have included options for background with and without the logo.
Many artists tried to copy this news background, but none of them can compare in quality to the original.
This Virtual News Studio background offers you amazing versatility. With 9 camera angles and multi-layering for each, you can configure this realistic set to suit just about any requirement. This Virtual news background is of such high quality that it has been used by HBO and in the TV show, Arrested Development, by Fox.
With this
news background
, you can focus on the news anchor from a variety of distances and angles. Or you can zoom in on the screen. Multi-layering of each camera view adds even more flexibility. And with our experience in integrating our news studios into popular vr set systems, no matter what you use – green screen, blue screen or chroma key – our, our sets will fit your virtual production needs. Deliverables are in high resolution .png format providing ample room to pan and zoom to set up your shot.
Similar Products
News background features inviting blue and maroon colors, with warm wood accents.
Virtual Sets
We offer discounts to returning customers, so you can save even more. Watch our newsletters for the coupon codes. Buy two of our animated camera sets and get the third free!
You can use the stock version of our Classic Backdrop or we can customize one for you. Or we can create an entirely new
news studio
to meet your needs. All
virtual studios
are compatible with any professional video editing software, MAC or PC. And you can download a free test before you buy. That way, you can test your concept ahead of time and there'll be no guesswork.
Our News studio backgrounds are only available from CG4TV.com. There are no resellers, so order your virtual news studio directly from us.
All of the images and virtual sets here at CG4TV.com are available in a variety of sizes and resolutions to suit a broad range of requirements.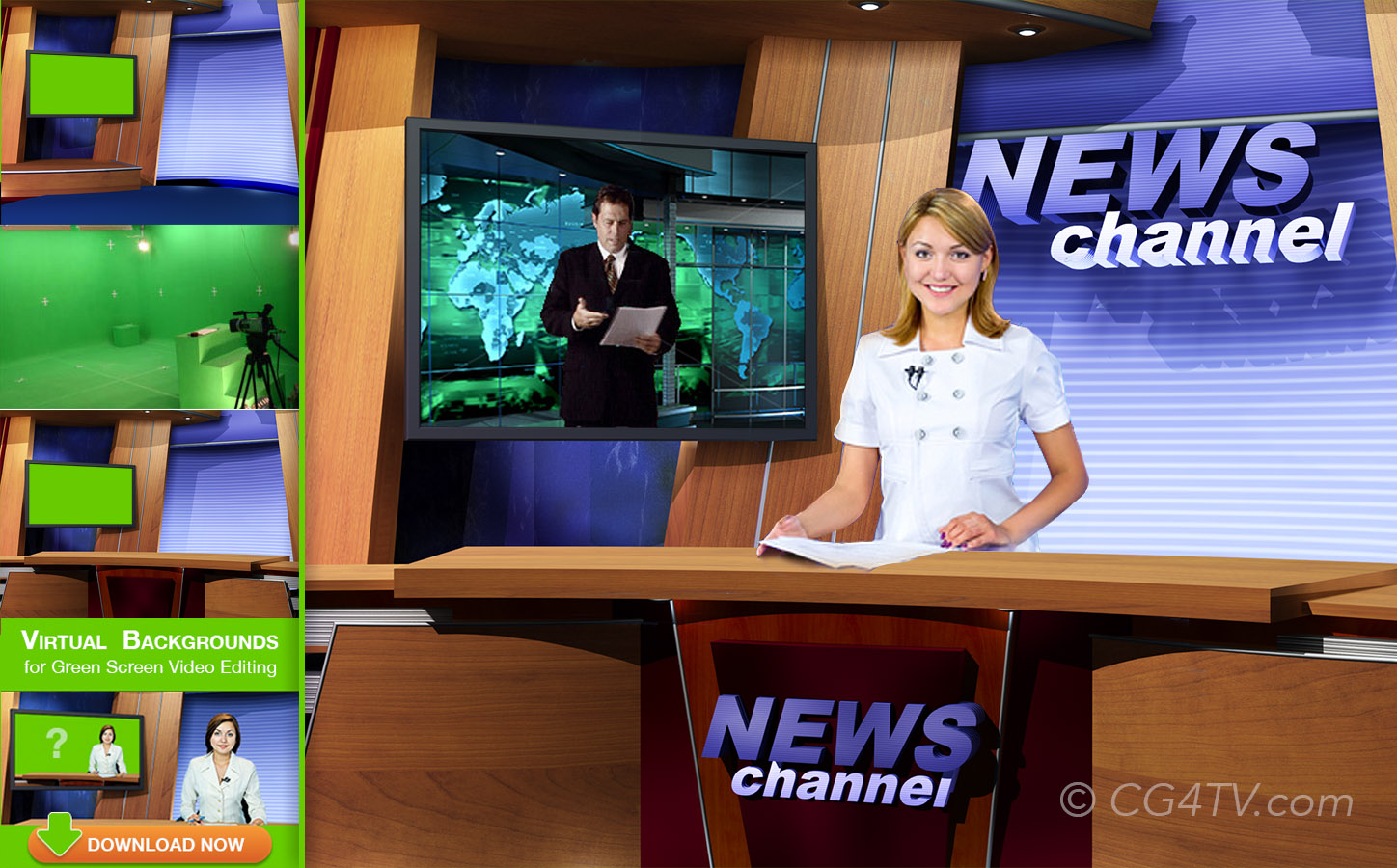 Reviews
Customer Reviews (1)
Worked well for our needs

Received the download links with a bit of a delay, not sure why. Cg4tv support responded quickly. The quality of the images is great, very detailed. They worked very well for our project.

(Posted on 2/17/2018)