Virtual Sets for Your Video Production
Free tutorials and virtual set samples for your tests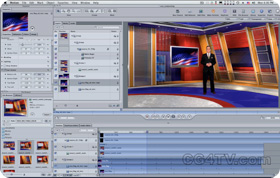 Users are amazed by how easy the virtual sets are to use as well as by their high production quality. Even relative novices can produce professional, broadcast-quality videos. Questions not covered in the tutorials can be found on the FAQ page or by contacting CG4TV at info@cg4tv.com.
Virtual Studio Sets
Our company CG4TV presents virtual studio sets for the green screen video editing. CG4TV stands for computer graphics for television. Nowadays you do not have to rent a professional studio for broadcast news or sports programs, political talk shows, educational programs, or other programs. You can simply use one of the virtual sets created by our virtual design studio. We offer excellent quality for multiple different angles with possibility of switching the objects on and off. We even produce establishing crane shots and animated virtual sets with moving backgrounds. You can find all of this in our virtual sets with moving backgrounds. You can find all of this in our virtual sets collection.
News Studio
News studio set. This virtual set has 9 cameras for different angles and has two dimensions standard 1600 by 1200 and high definition 2500 by 1875.
Photo realism of this set will create the illusion of real studio for your own news channel.
There are typically one or multiple screens included in each new set, so you can use it to broadcast interviews with reporters, video, logo animation or any other B footage.
Weather Set
Weather Set. We added an extra large monitor for a weather forecast channel virtual background.
You will be able to display your animated map or other footage on it. It also has 6 camera viewpoints.
It also was created in two dimensions 1600 by 900 for standard definition and 2500 by 1400 for high definition.
Each set was rendered a bit larger than the native 1080p to enable pan and zoom.
Stage Green Screen Background
Stage Green Screen Background. For conserts and shows and other entertainment oriented programs, we are offering multiple virtual stages.
This set has 14 camera angles. It features a large stage with a demonstration screen.
Multi Screen Animated News Set
Multi Screen Animated News Set. We made available a large selection of affordable animated effects in our store.
Typically studious will charge 5-10 times price of every animation in comparison with our store.
CG4TV - VIRTUAL STUDIO
Our company has been developing virtual sets for over 15 years. We started designing sets for company called Serious Magic, later purchased by Adobe. We still sell some of those sets in our store, but in HD. All our designers have a lot of experience and can also create sets for your specific needs. During last decade our virtual sets and animated backgrounds were used by many famous companies and producers for movies, news shows, sports channels, and other programs.
We take pride in producing high quality backgrounds and animations. We made it possible to remove the furniture and have flexibility with your shots by providing a lot of different camera angles, so you can create hyper real programs using our virtual studios. We will be happy to answer your questions and provide the support at any time.
In the FAQ section we collected answers to many questions that may arise when using our virtual sets. We recommend you to test our virtual studios. We provide free watermarked test samples. It will help you to make sure our sets work with your video editing software and you will understand how easy it is to work with our products.
We even recorded multiple video lessons about how to set things up and use virtual sets. We hope these lessons will save your time.
If you have questions get in touch with us over the phone. We will be happy to provide you with additional advice on our virtual studio sets.
Our virtual studios are competitively priced on the market and will allow everyone to create their own channel with very small investments.